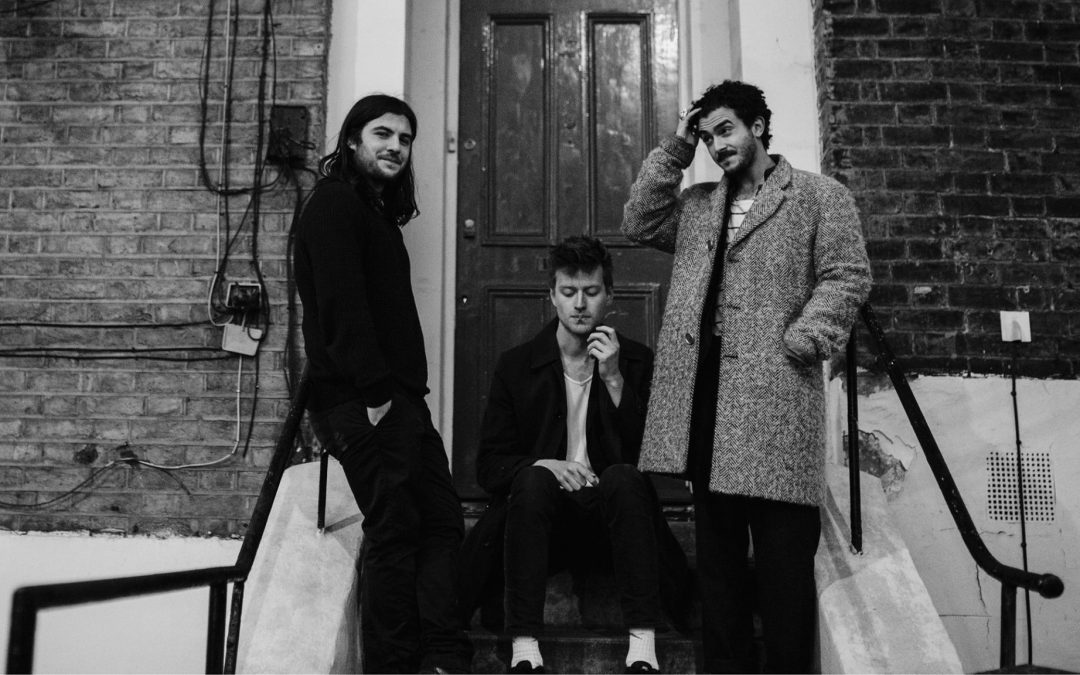 <iframe width="100%" height="160" scrolling="no" frameborder="no" src="https://w.soundcloud.com/player/?url=https%3A//api.soundcloud.com/tracks/306522550&color=64c08f&auto_play=false&hide_related=false&show_comments=true&show_user=true&show_reposts=false"></iframe>
<iframe src="https://open.spotify.com/embed/track/3gCskbRL90fyXnTg6kNaUu" width="300" height="380" frameborder="0" allowtransparency="true"></iframe>
Als Darkside sich verabschiedete, klaffte eine Lücke im Bereich der Intelligence Dance Music, kurz IDM. Nicolas Jaar himself hatte sich damals mit dem begnadeten New Yorker Gitarristen Dave Harrington zusammen getan und  zwei Alben produziert. Einerseits ein komplettes Remake des damals jüngst erschienen genialen Albums Random Access Memories von Daft Punk und andererseits ein der Formation namensgleiches Album (Darkside), das Begeisterungsstürme bei Kritikern und Fans von Nicolas Jaar hervorrief.
Diese Lücke füllt nun gewissenhaft ein noch recht unbekanntes Trio aus Großbritannien, genauer gesagt aus dem Londoner Süden. Sie fühlen sich wohl im Deckmantel der anonymen Großstadt und halten ihre Identität weitestgehend bedeckt.
Die Musik von Kerala Dust ist gleichermaßen melancholisch, tanzbar treibend und hypnotisierend. Der Bass hängt tief und drückt trocken nach vorne. Vorne kann man die Augen auch einfach verschließen und den vertrackten Effektfeuerwerken zusehen, die im Dunkeln auf der Netzhaut entstehen. Die Musik ist so ein bisschen Alverde Aloe Vera, wenn dagegen Solomun oder sonst wer Nivea wäre. Beides ganz gut, aber Ersteres viel natürlicher. Organic Electronic Music kombiniert mit Songwriting.
Auf der Website ihres Labels findet sich folgender schöner Gedankenfetzen, der vielleicht genau das zum Ausdruck bringt, was den Reiz von Kerala Dust ausmacht:
"The members within the inclusive isolation of this project would like you to dance while also wondering if there's really a point to anything. The realisation that there is no point will merely be liberating".
<iframe src="https://open.spotify.com/embed/artist/6lK8O3kyFThiTmgowQZGOH" width="300" height="380" frameborder="0" allowtransparency="true"></iframe>
<div id="disqus_thread"></div><!-- [et_pb_line_break_holder] --><script><!-- [et_pb_line_break_holder] --><!-- [et_pb_line_break_holder] -->/**<!-- [et_pb_line_break_holder] -->* RECOMMENDED CONFIGURATION VARIABLES: EDIT AND UNCOMMENT THE SECTION BELOW TO INSERT DYNAMIC VALUES FROM YOUR PLATFORM OR CMS.<!-- [et_pb_line_break_holder] -->* LEARN WHY DEFINING THESE VARIABLES IS IMPORTANT: https://disqus.com/admin/universalcode/#configuration-variables*/<!-- [et_pb_line_break_holder] -->/*<!-- [et_pb_line_break_holder] -->var disqus_config = function () {<!-- [et_pb_line_break_holder] -->this.page.url = PAGE_URL; // Replace PAGE_URL with your page's canonical URL variable<!-- [et_pb_line_break_holder] -->this.page.identifier = PAGE_IDENTIFIER; // Replace PAGE_IDENTIFIER with your page's unique identifier variable<!-- [et_pb_line_break_holder] -->};<!-- [et_pb_line_break_holder] -->*/<!-- [et_pb_line_break_holder] -->(function() { // DON'T EDIT BELOW THIS LINE<!-- [et_pb_line_break_holder] -->var d = document, s = d.createElement('script');<!-- [et_pb_line_break_holder] -->s.src = 'https://kollektiv-individualismus.disqus.com/embed.js';<!-- [et_pb_line_break_holder] -->s.setAttribute('data-timestamp', +new Date());<!-- [et_pb_line_break_holder] -->(d.head || d.body).appendChild(s);<!-- [et_pb_line_break_holder] -->})();<!-- [et_pb_line_break_holder] --></script><!-- [et_pb_line_break_holder] --><noscript>Please enable JavaScript to view the <a href="https://disqus.com/?ref_noscript">comments powered by Disqus.</a></noscript><!-- [et_pb_line_break_holder] -->